Criminal is powered by Vocal creators. You support
Evelina Josefine
by reading, sharing and tipping stories...
more
Criminal is powered by Vocal.
Vocal is a platform that provides storytelling tools and engaged communities for writers, musicians, filmmakers, podcasters, and other creators to get discovered and fund their creativity.
How does Vocal work?
Creators share their stories on Vocal's communities. In return, creators earn money when they are tipped and when their stories are read.
How do I join Vocal?
Vocal welcomes creators of all shapes and sizes. Join for free and start creating.
To learn more about Vocal, visit our resources.
Show less
The Case of Psychopathic Serial Killer Joanna Dennehy
Criminally Responsible, but Not Morally Responsible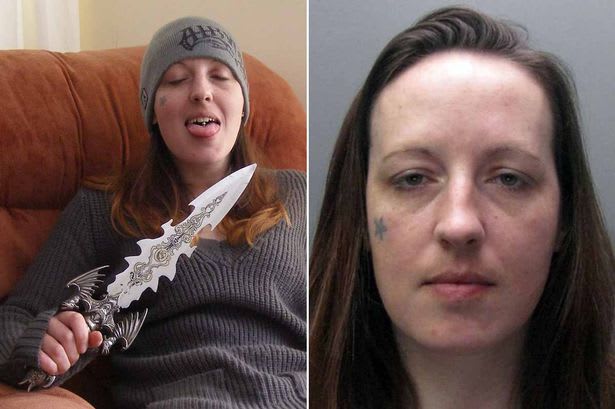 Offense description: Peterborough ditch murders. 
Joanna Dennehy (born 1982) was the serial killer of three murders that took place in March 2013 in Peterborough and two attempted murders that took place in West Mercia, England over a 10-day period. 
Dennehy murdered a polish warehouse worker Lukasz Slaboszewski, 31 and her housemate and former Navy man John Chapman, 56. The third victim was Kevin Lee, 48, who was her landlord and boss. Two other attempted murders of the dog-walkers and strangers John Rogers, 56 and Robin Bereza, 64. Rogers, and Bereza were randomly selected and attacked in the bright daylight.

Dennehy had two male accomplices in her control.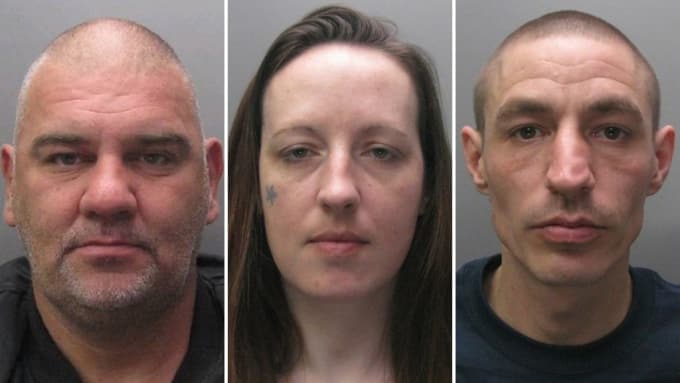 Killing Method: Dennehy used a male killing method by stabbing male victims brutally with a knife (murder weapon pictured below). She wanted to feel superior to the male victims and to inflict as much pain as possible.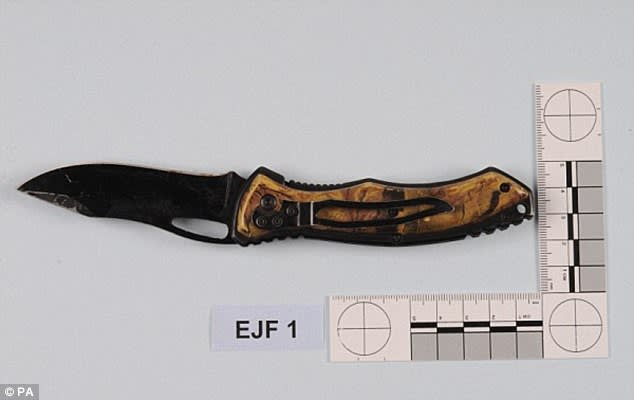 The Victims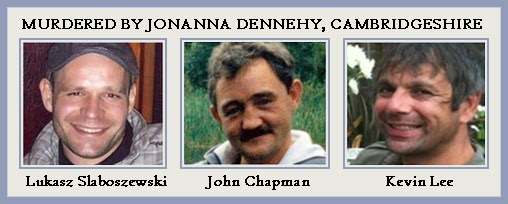 The first victim Slaboszewski, believed Dennehy was his girlfriend. He was lured to a property in Peterborough through suggestive text messages of sexual invitation. She then stabbed him through the heart. His body was dumped in a wheelie bin. Within 10 days, Dennehy used a pocket knife to kill her second victim, Chapman, she stabbed him once in the neck, twice in the heart, and three times in the chest. Afterwards, she phoned a friend and sung the Britney Spears song "Oops, I Did It Again."
The third victim was her landlord and lover, Kevin Lee that was found in a ditch dressed in a black sequined dress, with his buttocks exposed in what the judge said was a 'final humiliation'. She also had previously received a car as a gift from Kevin Lee, which she used to dispose of the bodies in the trunk to place them afterwards in ditches. She later used the same car in the search for more victims. 
Dennehy desired to kill again. So, she headed to Hereford, and on 2 April, she stabbed Robin Bereza from behind. Nine minutes later she stabbed John Rogers, leaving him for dead and stealing his dog. These two men survived. The police went on media to hunt for Dennehy and she became excited over the hunt for her and her accomplice. 

Motive: At first, Joanna Dennehy just wanted to kill the first victim out of complete sadistic sexual gratification. Dennehy felt that murder was "moreish" after her first kill and decided to set the goal of killing nine men because she just had a 'taste' for murder. She was driven by the act itself and not the end product of someone being dead. She didn't want to murder women, especially those with kids. There was nothing unusual with the events in her life, but the motive is unusual for a female. 
The arrest: In April 2013, Joanne Dennehy was arrested, along with her accomplice Gary "Stretch" Richardson. Then the 31-year-old Dennehy seemed to be astonishingly calm at the time of the arrest and was not showing any kind of remorse or sadness.

Joann Dennehy in custody: "It could be worse, I could be fat."
Dangerous psychopath—still criminally responsible and punishable.
Joanna Dennehy is a dangerous psychopath, who is criminally responsible, but not morally responsible, but was still a subject to criminal punishment through the prison. The motives and the clear intentions are substantial enough to support the sentence she received. Psychopathic criminals cannot be cured but can be trained and managed.

Conclusion: I will argue, that the virtually universal assumption that just criminal punishment requires moral responsibility—whether or not through the middle term of criminal responsibility—is false; that although psychopaths are not morally responsible, they are still criminally responsible and criminally punishable. 

Dennehy was a Hedonistic Serial Murderer, who committed homicides for pleasure or thrill seeking.