Criminal is powered by Vocal creators. You support
Charles Shi
by reading, sharing and tipping stories...
more
Criminal is powered by Vocal.
Vocal is a platform that provides storytelling tools and engaged communities for writers, musicians, filmmakers, podcasters, and other creators to get discovered and fund their creativity.
How does Vocal work?
Creators share their stories on Vocal's communities. In return, creators earn money when they are tipped and when their stories are read.
How do I join Vocal?
Vocal welcomes creators of all shapes and sizes. Join for free and start creating.
To learn more about Vocal, visit our resources.
Show less
Moog Aircraft Quality Refused To Investigate
FAA Accepted Moog Lying On Counterfeiting Supplier's Admitted Forgery Of Traceability Documentation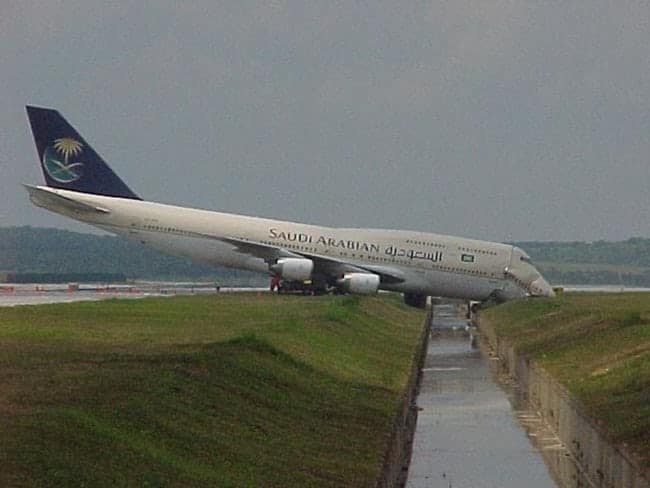 It does not matter who you are, Americans, Chinese, Japanese, Russians, as long as you board a B737, your plane may run out of runway after touching down and get crashed. Action For Removal Now. No Crying Over Tombstone!!
When this US aviation whistleblower took the risk of job security and even life and did my first Moog internal reporting to Global Supply Chain Director Kevin Walek on 7th August,2015. Kevin took it very seriously.He and VP of Moog Aircraft Quality Jesse Mangual ordered Ms Claire Stazark to investigate the suspected counterfeiting supplier Suzhou New Hongji(NHJ) in 3 weeks. However the job was badly mishandled.
The Supplier Development Engineer responsible for NHJ who was with Ms Starzak during her investigations gathered material information that NHJ own quality personnel admitted forging traceability documentation of traveler for a single point of failure blocking of B737 spoiler (The very safety critical part I focused throughout my whistleblowing process).
Moog Internal Memo Evidencing NHJ admitting forging Traveler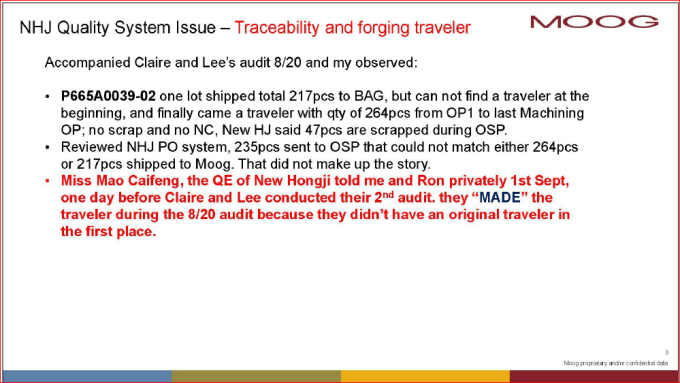 It was unfortunate Ms Starzak refused to deep investigate the forgery that could simply lead to finding of NHJ using fake material for that safety critical part. 
It was more unfortunate FAA investigator accepted Moog deceit and covered up the most serious violation of US aviation standard.
On 9th April,2015, I communicated with Mr. Robert Fortune, the FAA investigator:
"On page 3,it says "Accompanied Claire and Lee's audit 8/20 and my observed:
P665A0039-02 one lot shipped total 217pcs to BAG, but can not find a traveler at the beginning, and finally came a traveler with qty of 264pcs from OP1 to last Machining OP; no scrap and no NC, New HJ said 47pcs are scrapped during OSP.
Reviewed NHJ PO system, 235pcs sent to OSP that could not match either 264pcs or 217pcs shipped to Moog. That did not make up the story.
Miss Mao Caifeng, the QE of New Hongji told me privately 1st Sept, one day before Claire and Lee conducted their 2nd audit. they MADE" the traveler during the 8/21 audit because they didn't have an original traveler in place."
Mr. XXX and I shared the file "NHJ major issue summary" with Subu,the direct boss of Claire,I also phoned Subu on our concerns Claire was mishandling the investigation. Subu then set up a conference call including himself, Claire,Lee Morris(Claire boyfriend,Moog AG Asia supply chain manager reporting to Joe Zou),Mr. XXX and me. In the meeting, Claire pretended not to be aware Mr. XXX told her NHJ admitted they forged the traveler only because they knew the investigation was coming. Mr. XXX then said clearly and loudly "Do you remember I phoned you about this on your way to NHJ the 2nd investigation visit?" She became silent upon hearing this statement."

FAA Investigator fully aware of Moog quality refusing deep dive on NHJ admitted forging traceability documentation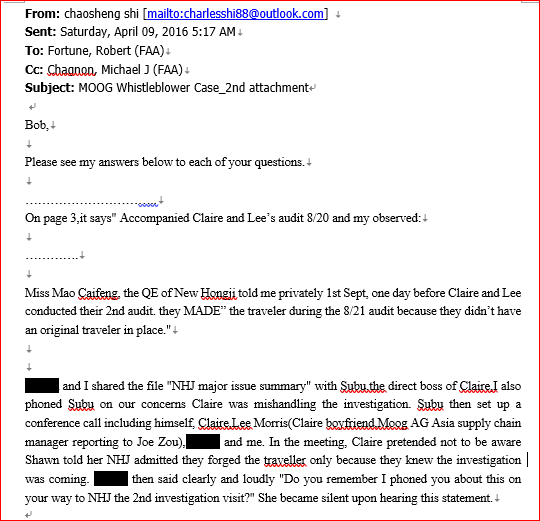 Even under this circumstances, FAA reached a No violation verdict by accepting Moog willful deceit.
FAA Investigator Accepting Moog deceit and covering up an extraordinary aircraft safety threat
NHJ has been the single source for that SPOF blocking of B737 spoiler since 2015 compromising at least 500 B737 now in service. Moog cracking spoiler block had caused life threatening air incidents. http://avherald.com/h?article=45e77cdf
Moog was fraudulent and trying to conceal the safety threat on the Icelandair Incident that aroused flying public outcry.
"Well, now they have an "in-flight" incident... Surely the part-manufacturer (Moog) is responsible for their product and for flagging potential failures... I have to ask: "what were these people thinking of?" — just because it never happened before, doesn't mean it won't ever happen. I just hope some changes are made to the relevant "processes" so as to prevent this happening again. Otherwise, the outcome might be much worse next time."

The Icelandair flight Incident was caused mainly by one cracking block which most likely used good aerospace material testifying even aerospace grade of material could crack during extreme air flow impact. 
In the case of NHJ illicit counterfeiting using cheap and poor quality non aerospace material, the fake blocking could fail faster. 
Not just one, all 10 blocks on each B737 could fail same time... more fatal accidents are just looming in. 
And we are talking about 500 B737 with bogus spoiler blocks flying with hundreds of thousands of Russian-Roullete-playing passengers around the world every day.
More information at:
https://www.youtube.com/playlist?list=PLwjrs24cNrv1CwuFG5ikJZ-k7Zv7mFvrp

https://plus.google.com/114122815517164934917

https://twitter.com/charlesshi888

https://www.facebook.com/charles.shi.925